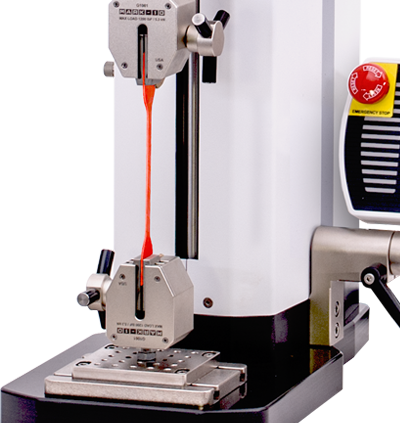 Plastics are typically polymers of high molecular mass, and usually contain other substances to improve performance and/or reduce production costs. The quality of the polymer and the impact of the added substances can be checked by testing the performance of plastics in the intended use. Examples of these tests are resistance to chemicals, maximum internal pressure, specific gravity, effect of heating, specific heat, water absorption, etc.
TQP is able to cover all commonly specified tests for plastic and rubbers. Such tests are the following:



Tensile strength, Yield & Elongation, Longitudinal / Transversal of plastic and rubber ASTM D6693, D5147, D146 / EN12311-1
Tear Strength, Longitudinal / Transversal: ASTM D1004, D5147 / EN12310-1
Peel or Lap Joint Resistance, ASTM D1876, D6392, D1002 / EN12317-1
Static Puncturing Resistance at 25kg 10mm ball, EN12730
Dynamic Puncturing resistance at 9 joules impact energy 5mm ball, EN12691
Water Absorption, ASTM D1004
Puncture resistance, ASTM D4833
Resistance to NaOH, ASTM D543
Water Vapor Permeability, ASTM E96
Cold Flexibility ASTM D5636
Softening Point (R&B) ASTM D36
Hydrostatic Pressure Resistance, EN1048/ EN1928
Mass/Unit Area, Thickness ASTM D5261, D5199
UV exposure (aging)
Salt Spray test (aging)
etc.
---
Plastics Test
| Plastic Pipes | Test Method | Description | Date |
| --- | --- | --- | --- |
| Chemical resistance of pipes | ASTM C650 | TQP uses chemical and physical testing, either destructive or non-destructive, to verify the quality of your product. | March 2017 |
| Compressive strength of extruded plastic sheets | ASTM D1621 | This test method describes a procedure for determining the compressive properties of rigid cellular materials, particularly expanded plastics. | March 2017 |
| Density and specific gravity of plastics by displacement | ASTM D792 | These test methods describe the determination of the specific gravity (relative density) and density of solid plastics in forms such as sheets, rods, tubes, or molded items. | March 2017 |
| Determination of Ring Stiffness of thermoplastic pipes | EN ISO 9969 | TQP uses chemical and physical testing, either destructive or non-destructive, to verify the quality of your product. | March 2017 |
| Determination of the maximum internal pressure of plastic pipes | BS EN 921 | TQP uses chemical and physical testing, either destructive or non-destructive, to verify the quality of your product. | March 2017 |
| Effect of heating on plastic pipes | ASTM D 2115 | This practice lists procedures for determining the relative thermal stability of sheet or molded polyvinyl chloride compounds as indicated by discoloration due to exposure to an elevated temperature at controlled oven conditions. | March 2017 |
| Loss on ignition of cured reinforced resins | ASTM D 2584 | This test method covers the determination of the ignition loss of cured reinforced resins. This test method can be used to obtain the ignition loss of a cured reinforced resin sample. This test method does not provide a measure of resin content for samples containing reinforcing materials that lose weight under the conditions of the test or containing resins or fillers that do not decompose to volatile materials released by ignition. | March 2017 |
| Minimum wall thickness of plastic pipes | BS EN 496 | TQP uses chemical and physical testing, either destructive or non-destructive, to verify the quality of your product. | March 2017 |
| Percentage of extractable materials in pipes | ASTM D4024 | This specification covers reinforced-thermosetting resin flanges other than contact-molded flanges. Included are requirements for materials, workmanship, performance, and dimensions. Flanges may be produced integrally with a pipe or fitting, may be produced with a socket for adhesive bonding to a pipe or fitting, or may be of the type used in conjunction with either a metallic or nonmetallic backup ring. | March 2017 |
| Specific gravity of extruded plastic sheets | ASTM D1622 | This test method covers the density of a cellular plastic. Density can be evaluated as the apparent overall density (includes forming skins) or by apparent core density (forming skins removed). | March 2017 |
| Specific heat of plastic at 20 degree Celsius | TQP | TQP uses chemical and physical testing, either destructive or non-destructive, to verify the quality of your product. | March 2017 |
| Water absorption of plastics | ASTM D570 | This test method covers the determination of the relative rate of absorption of water by plastics when immersed. This test method is intended to apply to the testing of all types of plastics, including cast, hot-molded, and cold-molded resinous products, and both homogeneous and laminated plastics in rod and tube form and in sheets 0.13 mm [0.005 in.] or greater in thickness. | March 2017 |
Tel: +961 25 814 012 / +961 25 814 077
Tel/Fax: +961 25 814 013
P.O. Box: 30-24 Choueifat-Lebanon
Bchamoun Main Road, Al Hanaa Bldg., Basement Floor