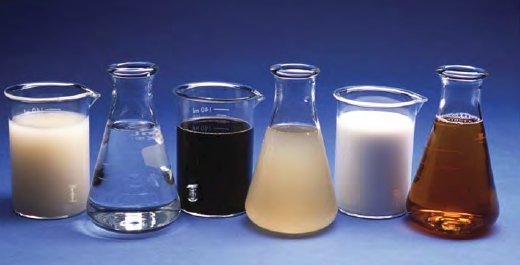 One of the major aspects of cement chemistry that concern concrete suppliers and users is the influence of chemical admixtures on concrete. A wide variety of chemical admixtures have been introduced to the concrete industry over the last three decades, and engineers are increasingly concerned about the impacts of these admixtures on cement and concrete performance.
Many researches dealing with admixtures have been conducted and have showed the various effects of admixtures on concrete. For example, air-entraining admixtures are widely used where concrete will be subject to repeated freeze-thaw cycles. Air-entraining agents have no considerable effect on the rate of hydration of cement or on the chemical composition of hydration products. However, an increase in cement fineness or a decrease in cement alkali content generally increases the amount of an admixture required for a given air content. Water reducers or retarders interferes with cement compounds and affect their hydration. For example, Lignosulfonate-based admixtures affect the hydration of C3A, which controls the setting and early hydration of cement. C3S and C4AF hydration is also affected by water reducers.
Researches also showed that the cement alkali and C3A contents are among the basic compounds affected by the admixtures and must be analyzed to achieve the desired mix. Also, retarders are more effective with cement of low alkali and low C3A content, and water reducers seem to improve the compressive strength of concrete containing cements of low alkali content more than that of the concrete containing cements of high alkali content.
TQP can serve you identifying your admixture, studying its effect on concrete and analyzing its physical and chemical properties to check its compliance with the set Materials Safety data sheet.
---
Admixture Tests
| Admixtures | Test Method | Description | Date |
| --- | --- | --- | --- |
| Calcium Nitrite content of admixture | Vogel | Calcium nitrite is one of the common types of corrosion inhibiting admixtures. Corrosion inhibiting admixtures increase the passivation state of reinforcement in concrete structures. This can inhibit the corrosion process over extended periods when passivation provided by the alkali of the cement is lost as a result of chloride ingress or carbonation. | Jan. 2017 |
| Chloride content of admixture | BS EN 480-10 | Chloride, the non-desired ion in admixture, and accordingly in concrete, could be determined potentiometrically. Water-soluble chlorides, in combination with oxygen and moisture, can cause corrosion of embedded metals in concrete. Admixtures having % of chloride higher than the specified values shall be rejected. (usually <1000ppm as per BS 480-10, or not above manufacturer stated value) | Jan. 2017 |
| Density of foaming agent | Pycnometer | Foaming Agents used in making preformed foam for cellular concrete shall satisfy the requirements stated in ASTM C869 | Jan. 2017 |
| Foam concrete mix design-in situ | ASTM C260, ACI 211.1 | Foaming Agents used in making preformed foam for cellular concrete shall satisfy the requirements stated in ASTM C869 | Jan. 2017 |
| pH of admixture | ASTM-E70 | Electrometric measurement of pH values of admixtures with the glass electrode is one of the main process control variables in the admixture industry. pH of concrete admixture is almost alkaline; its acidic value could be an indication of its rancidity or expiry. | Jan. 2017 |
| pH of foaming agent | ASTM E70 | Foaming Agents used in making preformed foam for cellular concrete shall satisfy the requirements stated in ASTM C869 | Feb. 2017 |
| pH, specific gravity and solids content of admixture | ASTM C494 | These are the routine analyses of admixtures usually conducted to control its quality. However, the practical way to evaluate the effectiveness of admixtures is to make trial mixes and check its impact on the Rheology of the concrete, its setting time and strength performance over time. | Feb. 2017 |
| Residue by Oven Drying of foaming agent | ASTM C 233 | Foaming Agents used in making preformed foam for cellular concrete shall satisfy the requirements stated in ASTM C869 | Feb. 2017 |
| Sodium Gluconate content in admixture | TQP | Sodium Gluconate is commonly used as ingredient in superplasticizers and it is usually tested for its purity and content in admixture. | Feb. 2017 |
| Soluble chloride content of foaming agent | BS 5075 p1 | Foaming Agents used in making preformed foam for cellular concrete shall satisfy the requirements stated in ASTM C869 | March 2017 |
| Sulfate content of admixture | TQP | Sulfate is commonly available in admixture at remarkable percentages (usually 5 to 20%) the determination of its concentration reflect the quality of the raw materials of the admixture. Sulfate is tested gravimetrically. | March 2017 |
Tel: +961 25 814 012 / +961 25 814 077
Tel/Fax: +961 25 814 013
P.O. Box: 30-24 Choueifat-Lebanon
Bchamoun Main Road, Al Hanaa Bldg., Basement Floor